HOESCH SPUNDWAND UND PROFIL, DORTMUND
WALZWERK, ROLLING MILL.
DEUTSCHLAND, GERMANY.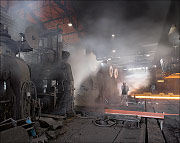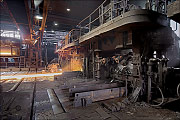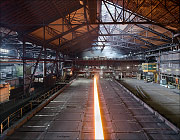 Urheberrechte, Copyright: ©Uwe Niggemeier
info
Die Hoesch Spundwand und Profile GmbH (HSP) ist der letzte noch arbeitende Betriebsteil der ehem. Union Hüttenwerke in Dortmund.
Die Union AG für Bergbau, Eisen- und Stahl-Industrie wurde 1872 gegründet und erhielt 1881 ein Hochofenwerk.
Ein Blockwalzwerk und die schwere Profilstrasse (das noch heute arbeitende Walzwerk 1) nahmen 1902 die Arbeit auf.
Nach der Übernahme durch die Deutsch-Luxemburgische Bergwerks- und Hütten-AG, in 1910 wurden im Rahmen eines groß angelegten Modernisierungsprogramms ein Siemens-Martin Stahlwerk und ein Thomas Stahlwerk,in Betrieb genommen.
1926 wurde die "Deutsch-Lux" teil der Vereinigten Stahlwerke.
Nach der Zerschlagung dieses Konzern nach dem zweiten Weltkrieg fusionierte das Union Hüttenwerk mit dem Hörder Verein aus Dortmund zur Dortmund Hörder Hüttenunion(DHHU).
1957 wurde die kontinuierliche Mitteleisenstrasse (Walzwerk 2) in Betrieb genommen.
Im November 1963 gingen der letzte von 5 Hochöfen und das Thomas Stahlwerk ausser Betrieb.
1966 wurde die DHHU von Hoesch übernommen.
1981: Stilllegung der Walzstrasse 2 und des Siemens-Martin Stahlwerks.
1992 Übernahme durch Krupp und zwei Jahre später Gründung der Hoesch Spundwand und Profile GmbH.
Das Walzwerk gehört seit 2000 zur Salzgitter Stahl Gruppe und ist der letzte Hersteller von Spundbohlen in Deutschland.
info
Hoesch Spundwand und Profile (HSP) is the last survivor of the once fully integrated Dortmunder Union steel mill.
The Union AG für Bergbau, Eisen- und Stahl-Industrie was founded in 1872 west of Dortmund in Germany.
In 1881 three blast furnaces were built.
A blooming mill and the heavy section mill, called rolling mill NO1 and still in use today, were installed in 1902.
After the Union became part of the Deutsch-Luxemburgische Bergwerks- und Hütten-AG in 1910 an extensive modernisation scheme brought a new Thomas converter melt shop and an open hearth shop.
In 1926 the Union works became part of the Vereinigte Stahlwerke AG from Düsseldorf.
After this company was dismantled after the second world war the Union works joined the Hörder Verein , another steel company from Dortmund, to form the Dortmund Hörder Hüttenunion (DHHU).
In 1957 a continuous medium section rolling mill was erected now called rolling mill NO 2.
In November 1963 the last of the five Union blast furnaces and the Thomas converter steel mill were closed for good.
In 1966 the DHHU was taken over by the Hoesch Stahl AG from Dortmund. The division was called "Werk Union" from now on.
In 1981 the open hearth shop and the rolling mill NO2 were closed.
In 1992 Hoesch was bought by the Krupp company from Essen. Two years later the new subdivision Hoesch Spundwand und Profile was founded.
From 1999 on the remaining rolling mill was part of the ThyssenKrupp Stahl company to be sold to the Salzgitter Stahl company in 2000.
HSP is the only producer of sheet piles and heavy sections in Germany now.